The happiness of children is one of the top concerns of parents. To make playing at home more enjoyable and creative for children, the Kids Play Couch can be an excellent choice. This multifunctional piece of furniture not only provides a comfortable resting space, but also provides a colorful play experience for children. Below, we will introduce some creative ways to make children have more fun on Kids Play Couch.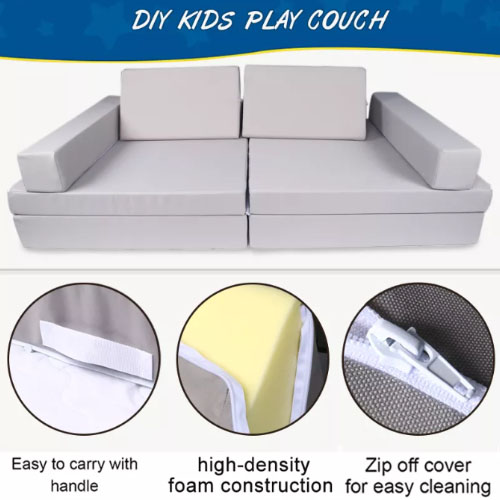 1. Create a role-playing place:
The spacious and comfortable design of the Kids Play Couch makes it an ideal role play place for kids. By building simple sets such as castles, spaceships or zoos, children can play various characters and embark on imaginative adventures. They can be brave knights, explorers, or even astronauts from outer space, let them be creative and make the game fun.
2. Painting and crafts:
The flat surface on the Kids Play Couch is the perfect place for kids to engage in painting and crafting activities. Prepare some temporary drawing supplies for the children, such as paper, paints, colored pens, and let them create freely on the sofa. This kind of play can not only cultivate children's artistic talent, but also promote their hand-eye coordination and creativity.
3. Small playground:
The Kids Play Couch can also be transformed into a small playground, stimulating children's vitality and athleticism. You can place some soft balls next to the sofa for children to throw and catch. This kind of interaction not only exercises the children's body, but also enhances their sense of teamwork.
4. Reading corner:
Set up a small reading nook on the Kids Play Couch with picture books and story books your kids will love. In this cozy nook, children can curl up comfortably on the sofa and indulge in a book. This not only cultivates their interest in reading, but also creates a quiet and conducive learning environment.
5. Scientific experiment base:
Kids Play Couch can also be a small science experiment base for kids. By preparing some simple science experiments, such as water mixture, colored solutions, etc., children can have fun scientific exploration on the sofa. This way of playing not only increases their interest in science, but also cultivates their observation and experimental abilities.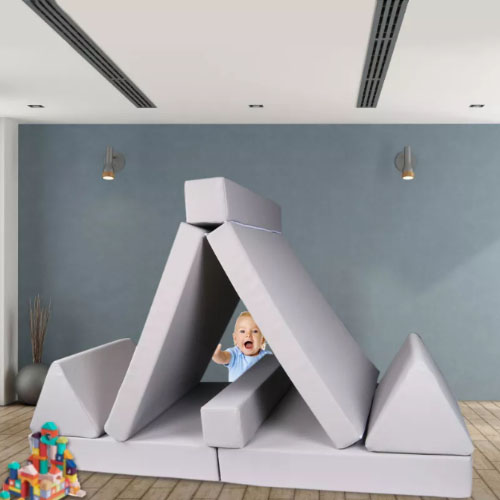 Overall, Kids Play Couch is a multifunctional piece of furniture that can stimulate children's creativity and imagination. Through the above creative ways of playing, we can make children play more happily on this comfortable sofa. Whether it's role-playing, drawing, exercising or scientific exploration, Kids Play Couch is a joyful companion for children, creating a fun and inspiring environment for them to grow. If you have a demand for Kids Play Couch, please contact XXY Home Furnishings Factory to professionally solve children's troubles and let them have a better childhood.