China Kids Soft Play Couch Toy manufacturers
China Kids Play Couch Toy suppliers
Kids soft Play Couch Toy is a sofa specially designed for children, made of high-quality skin-friendly materials. It can be used for children to play, study or relax, which is both practical and fun. With the development of modern life, more and more parents are willing to provide children with a fun and safe indoor play environment, and Kids Play Couch is a good choice.
The shape of the Kids Play Couch Toy is very cute and good, and the overall design is usually relatively simple, without any dangerous hard objects or sharp corners. Its bottom is usually equipped with soft and stable supports, which can ensure that the sofa will not slide or tip over. The materials used in Kids Play Couch are usually strictly screened, without any harmful substances, and will not cause any harm to children's bodies.
XXY is a professional Kids Play Couch Toy manufacturer and supplier in China. We have been specialized in foam made proudcuts for 12 years. Our products have a good price advantage and cover most of the European and American markets. We look forward to becoming your long-term partner in China. Kids play couch hot selling these 2 years.
1. Product Introduction of Kids Soft Play Couch Toy
A XXY Play Couch is a piece of furniture designed for kids. Also known as a modular sofa, it is a completely flexible system designed for open ended play.
2. Product Parameter (Specification) of Kids Soft Play Couch Toy
| | | | |
| --- | --- | --- | --- |
| Length | Width | Height | Packaging Size |
| 168cm | 84cm | 56.5cm | 38*38*88cm or Customized |
3. Product Feature And Application of Kids Play Couch Toy
Another great feature of Kids Play Couch is its playability. Its shape can be cartoon characters, animal figures, etc., so that children feel that they are sitting next to their favorite animals. On one side of the sofa, some detachable small games can also be added, such as bags containing colorful balls, small drawing boards printed with numbers and letters, and small buttons that make beeping sounds, etc. Not only that, Kids Play Couch can also be used as a decoration, its use is not limited to entertainment, it can also become a unique landscape in children's room.
4. Product Details of Kids Soft Play Couch Toy
XXY play couch come with inner liner or waterproof liner to protect the foam matching YKK zipper and durable handle means high quality available. In short, Kids Play Couch is a design full of fun and practicality. It is a pet and toy for children to play and enjoy in the new era, and it is also safe, beautiful and practical children's furniture. If you want your kids to have more indoor activities, learning, relaxation and entertainment can all be taken into account, Kids Play Couch will be a good choice!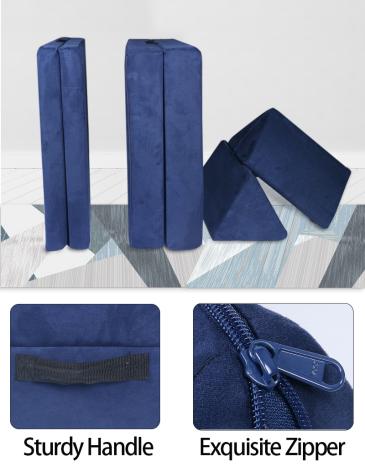 5. Product Qualification of XXY Kids Play Couch Toy
high density CertiPUR-US® foam and premium luxury microsuede.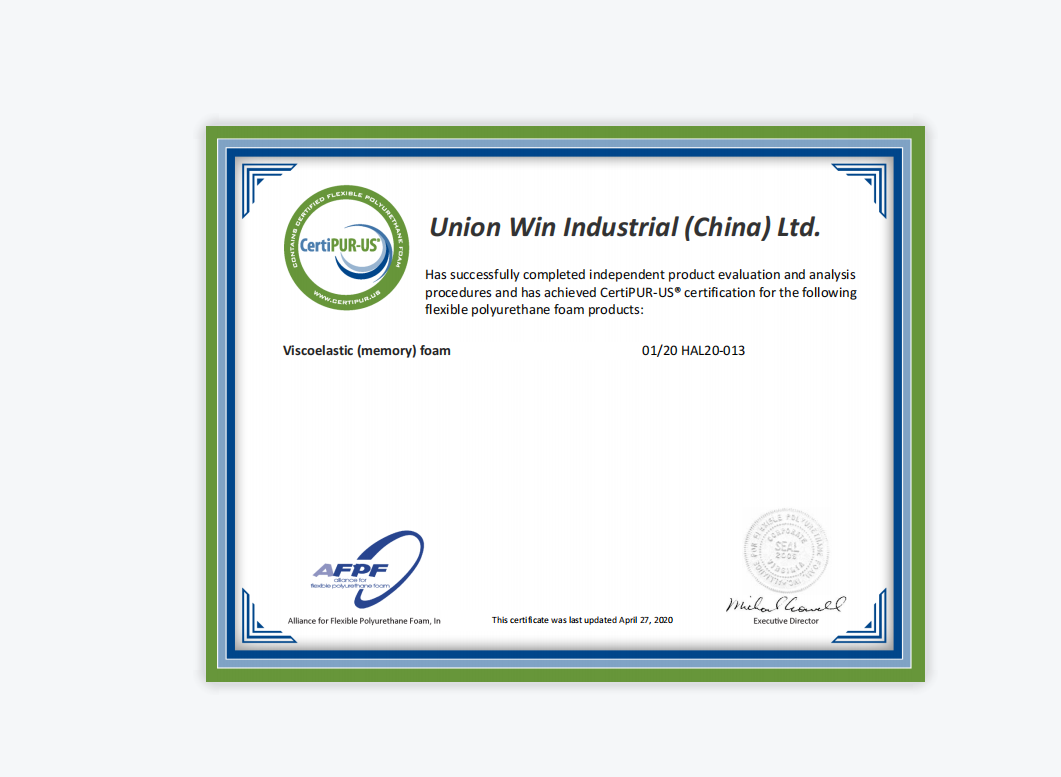 6. Deliver, Shipping And Serving of Play Couch
DDP, FOB, CIF acceptable. Air & sea transportation acceptable.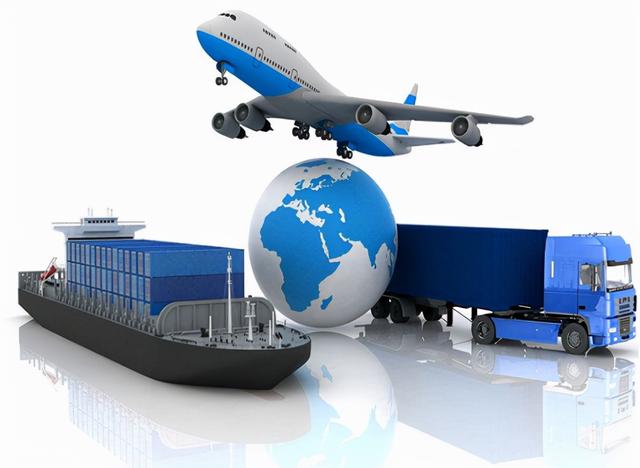 7. FAQ
What is a play couch?
A XXY Play Couch is a piece of furniture designed for kids. Also known as a modular sofa, it is a completely flexible system designed for open ended play.
It is designed as not only a couch, but also to be used as building cushions, allowing your child to create different set ups or objects.
It completely transforms the playroom, and we guarantee it will be used every day!
It is suitable from newborn stage to teens - but can be comfortable for adults too.
The dimensions are 168cm wide, 84cm deep and 56.5cm high when assembled as per photo below.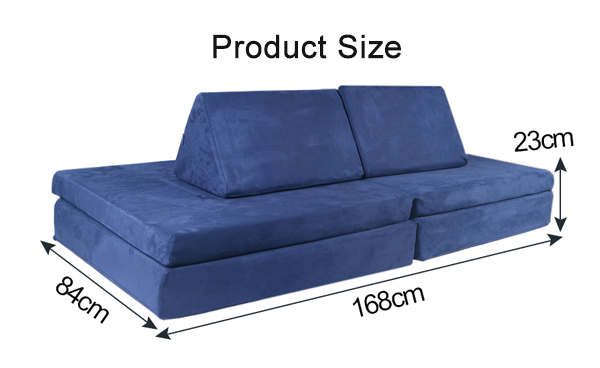 What comes in the box? What do I do when I receive it?
Our XXY Kids Play Couch Toy is compressed into a box 88cm x 38cm x 38cm. When you receive it, slide the rolled up couch out, CAREFULLY cut the outer plastic, allow to unroll, then cut the end of the plastic bag to allow the magic to happen!
It may take a while for some pieces to expand fully, do not be alarmed. In the event a piece doesn't regain shape, or you would like to speed up the process, please email us at [email protected] for advice.
Please open the box within two weeks of receiving, as the foam shouldn't stay compressed too long.
How do I care for my XXY Kids Play Couch Toy?
Warm machine wash and either line dry flat in the shade, or warm tumble dryer.
We recommend vacuuming weekly to keep in pristine condition.
You can use a wet cloth with liquid soap for small stains.
Can we talk about the foam?
We spent over 2 months trying to all kinds foam we have which density perfect for our play couch . And its finally perfect! Not too firm, not too soft, good for bouncing, sleeping and building. It is the BEST foam we could possibly produce, and we are so proud of its quality, feel, safety and smell (NO SMELL).
Our base is firm- with an IDL ( Indentation Load Deflection - this is how foams firmness is measured) of 45 - perfect for building, climbing and also makes for a sturdy couch for even adults! The thinner layer is slightly softer, with an IDL of 35 - so it feels like a cloud! Our aim was to make a couch that was comfortable enough to jump on from a high height, but also firm enough to withstand years of rough play!
Our high density CertiPUR-US® foam is what sets us apart - it is flexible, strong and extremely durable! The density of our foam is 1.8lbs/ft3 - which equates to a lifespan of 5-10 years. (This is based on everyday adult couch use - so for children's use it will last even longer!)
Our foam is certified and listed on the CertiPUR-US®, which is the gold standard for foam safety. Since it's certified, you can safely know that your play couch is: Free of formaldehyde, phthalates, mercury, lead, and other heavy metals. Low VOCs* (Volatile Organic Compounds), so no weird smells and no lowered air quality. Made without PBDEs, TDCPP or TCEPC flame retardants. Made without ozone deleters and is environmentally innovative. *VOCs are generally human-made chemicals that emit as harmful gases from things like foam.
Micro what?
Our covers are made from premium luxury microsuede.
It feels soft like butter, it's got a tiny bit of a stretch (perfect for soft landing). It fits like a glove (no loose or saggy parts).
It is water and stain resistant, and pet friendly.
Most importantly, it is machine washable - see our Care tab for more info.
It has gone through multiple lab tests to ensure it's safe, and chemical free.
China Kids Play Couch Toy factory
Kids Play Couch Toy manufacturers