Customized Large Premium Velvet Soft Foam Footrest for Desk
China Large Premium Velvet Soft Foam Footrest for Desk suppliers
China Large Premium Velvet Soft Foam Footrest for Desk manufacturers
Adjustable Foot Rest Under Desk for Added Height - Large Premium Velvet Soft Foam Footrest for Desk
Large Premium Velvet Soft Foam Footrest for Desk - Instant Pain Relief for Lower Back, Sciatica, Hips, Knees, Ankles & Feet: If you are sitting for 8 hours a day at your work desk, this comfortable leg rest pillow is just right for you. It provides additional support to maintain good posture, reduces pressure on your legs, promotes improved blood circulation, decreases foot swelling and tingle.
Comfort & Support All Day Long: XXY foot rest under desk is designed to elevate your feet and keep your legs warm. It isolates your feet from the floor and reflects the heat back to your legs, keeping them warm even without shoes or socks on. Moreover, our leg rest helps lift your legs enough to take pressure off your spine and keeps your feet super comfy for the whole working day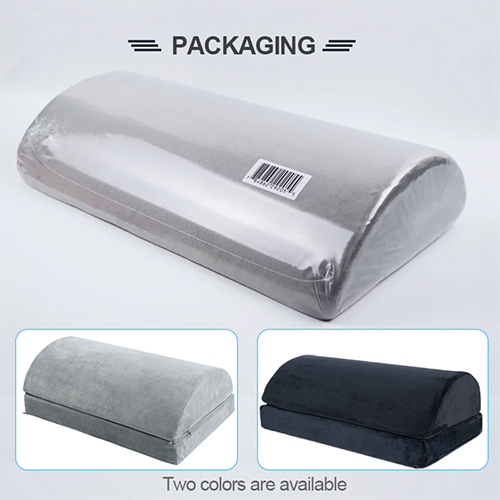 Top Features for Your Pleasure: If you don't feel comfy enough working from home our adjustable foot rest for under desk is a great solution. XXY ergonomic foot rest is large enough (45*30*15CM), has an adjustable height (from 10-15cm), and medium firmness foam core that provides adequate support. Our footrests 2 memory foam pads are velcroed together to provide various levels of support while the non-slip bottom helps the pillow stay in place.
Versatile, Easy to Move & Sturdy: XXY foot stool for under desk can be used in different ways - under your knees for support while laying down and as a rocker for additional comfort while sitting. Take this under desk footrest ergonomic anywhere you go - this pad will reduce lower back pain whether you are at home, or at work. A durable memory foam core will retain its original shape and firmness even after prolonged use.
Recommended by Chiropractors & Orthopedicians: This extra foot support cushion helps to correct your posture while you sit, helping to keep your knees bent at the proper angle, slightly higher than your hips. With our desk foot rest, you will keep your spine perfectly aligned, alleviating pressure from your lower back and shoulders, which will positively impact your health and productivity
FAQ
1). Does it have a non-slip bottom?
Yes, our foot rest has non-slip material on the bottom for your convenience, so the foot rest will not slip
2). Has anyone used this at the bottom of your recliner to elevate your legs while reclined for better circulation ?
Yes,One of the purposes of the cushion is to elevate your legs while at rest. If your recliner is low, then definitely it would raise your feet down to the legs which would give you better circulation. However, if you have any special conditions to attend to, we recommend that you seek professional advise before doing so.

3). How do you clean this product?
The outer cover is removable and washable
4). Does the foot rest have certi-pur certification? Are any flame retardants used?
Yes, this foot rest is CertiPUR-US certified. So it guarantees the environment, health, and safety properties of the memory foam core in our lumbar cushions. This gives us the certainty that we are offering high-quality products.
5). How soft/firm is this foot rest?It is firm enough to provide support however it is much softer and more comfortable than plastic alternatives. It will allow your feet to sink a tiny bit as memory foam "hugs" your feet for more coziness.
Large Premium Velvet Soft Foam Footrest for Desk suppliers
Large Premium Velvet Soft Foam Footrest for Desk manufacturers
Large Premium Velvet Soft Foam Footrest for Desk factory